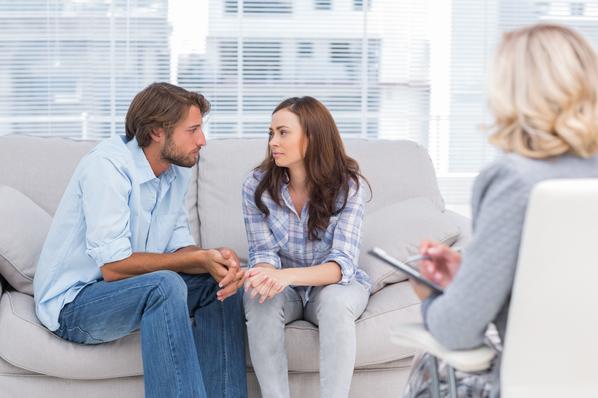 It is not uncommon for married couples to experience increased problems in their relationship at some points during marriage. While some conflicts may flare up and pass, there are problems that may not seem to go away. In fact, in many cases, the same problems and fights become reoccurring and more frequent. Problems in relationships can lead to increased defensiveness, antagonism, verbal fighting, or breakdowns in communication and withdrawal. All of these patterns can lead to increased stress and frustration for individuals in the relationship. Children can become the innocent victims in these conflicts. It has become too easy in today's age to avoid the hard work that may be necessary and worthwhile to make a marriage work. On the other hand, it is not necessary to simply accept an unhealthy or negative relationship.
Marital therapy or couples counseling can be an effective approach to reducing conflict or improving the quality of a relationship or marriage. Couples can often get stuck in the same pattern of conflict or problems and seem to lose the ability to effectively problem solve or work through issues effectively. Marital therapy can help address troubling issues that arise between couples including communication difficulties, anger, lack of support, and trust issues. Couples counseling works to neutralize the defensiveness and animosity that can build up in relationships and help partners utilize more healthy communication.
Goals of Marital and Couples Therapy typically include:
Help couples identify and correct negative communication patterns

Re-establish a positive and supportive climate

Reawaken feelings of affection and caring towards one's partner

Overcome problems related to sex and intimacy

Learn how to avoid triggering one another and strategies to avoid criticism, name-calling, shutting down, and disrespect

Create greater understanding for one another and develop the ability to effectively discuss different perspectives

Work through infidelity and other threats to the relationship
While marriage can be difficult, divorce can be worse. The stressors that the divorced individuals face as well as complications involving children are truly unfortunate outcomes of failed relationships. When stress or problems increase, relationships can easily fall victim to unhealthy patterns of communication or breakdowns in communication. Gender differences and unmet expectations for marriage can further complicate relationship difficulties. The clinicians at Pathways Psychology Services realize that couples counseling can be especially difficult for men and work to create an equally comfortable environment for both husband and wife. There are steps and strategies couples can take to improve relationships, reduce conflict, and renew the loving support that once existed in their relationship.