Health and Wellness Counseling
Adolescent and Adult
Increased awareness and understanding of the link between physical health and psychological well-being has become well-established in the medical community leading to sub-disciplines in the mental health field that include health psychology, nutritional counseling, and health and wellness counseling.
Problems addressed: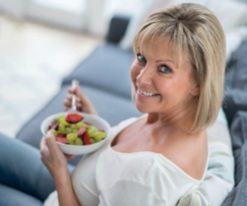 • Overeating and obesity
• Migraines
• Fibromyalgia
• Pain Management
• Lupus
• Diabetes
• Chronic Fatigue
• Eating Disorders: anorexia, binge-eating, bulimia
• Bariatric Surgery
• Trauma and recovery
• Lifestyle changes
• Irritable Bowel Syndrome
Counseling Approach: A combination of Cognitive-Behavioral Therapy, Behavioral Coaching, Motivational Interviewing, and Education and Resource linkage.
Health and Wellness Goals may include: Pain management, increased self-discipline, increasing activity, weight loss, dietary adherence, healthy eating behaviors, reduced stress and anxiety, implementation of an exercise plan, overcoming limitations created by medical or pain related challenges.
Sue Underhill, MA, LCPC
Child, Family, and Adult Therapist
Sue Underhill is a Licensed Clinical Professional Counselor who received her Master's Degree from Northeastern University. Sue is experienced working with adults with issues including depression, anxiety, binge and emotional eating, and eating disorders. In her counseling work, Sue collaborates with her clients to develop self-responsibility, increase positive self-talk, make healthy choices, and become more empowered. She is also a certified personal trainer and has provided nutritional counseling and life coaching. Sue can be contacted via email or by phone at 630-588-8490.